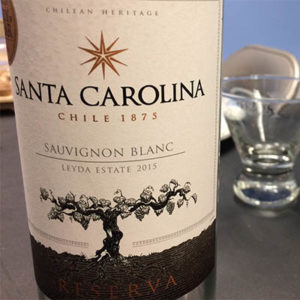 We were in the mood for something sporty to go with our family meal just before the show, and wine broker Mark Raymond pulled out this 2015 Chilean winner for us to sample. Mark shared a Santa Carolina Sauvignon Blanc from the Leyda Estate.
At the Santa Carolina Vineyard, they make wine by hand, the old fashioned way. We taste grapefruit, spice, lemon zest – a great wine with spicy foods, chicken, fish, or just for sipping when friends drop by.
Read the label over the phone to your wine store. If it's not on the shelf, a good store will have it for you within 24 hours. The distributor is Brescome Barton.