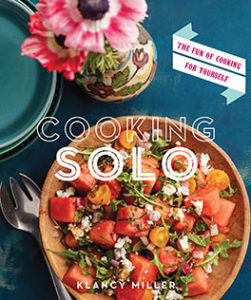 Table for one! We loved this idea. Of course food and all its pleasures are meant to be enjoyed around a table with a warm body in every chair. The more the merrier, right? But, after spending time with Klancy Miller's new book Cooking Solo, you'll come to realize, as Klancy does, that "preparing a meal for yourself is a special exercise, an unpressured act of creativity, self-care, and validation." I need more of this in my life!
It was a joy to talk to Klancy, our guest on a recent Food Schmooze®, and not just because she shared her Second-Day Salmon with Linguine and homey Polenta with Shiitake Mushrooms (which, by the way, WOW). Make it. You'll see why Faith asked Chris to prepare the recipe for the pre-show meal we share together. Klancy's polenta includes a teaspoon of truffle oil, so there's a little self-care for ya. I felt very self-cared for. I'd like to feel that way again tonight at dinner.
In Klancy, we found an author totally in tune with our belief that cooking should be empowering, fun, with "freedom to improvise and to fail," not that we can imagine Klancy has much experience failure. For sure, there's an emphasis on fun, here, with recipe titles like "(Oh My Gosh) Ganache and a beef taco inspired by Aziz Ansari. There's a shaved zucchini salad with the footnote "Made for Instagram." It's obvious why. Be ready to tap the Insta-heart.
And, because no one cooks for herself (alone) every night, there's cake. A beautiful, citrusy, somewhat dense almond cake. It's perfection. It can also be made gluten-free, so go ahead and add it to your holiday must-make list.
Show bonus: If you've ever wondered what it's like to work the pastry line at the Michelin-starred Taillevent in Paris, Klancy shares her experience with Faith. The chefs were actually quite kind, despite the exceedingly high expectations and buttoned-up kitchens.