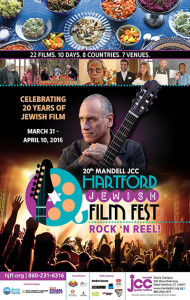 Food and film go together in this year's Mandell JCC Hartford Jewish Film Festival.  Some numbers for you: in their 20th year, the Hartford Jewish Film Festival celebrates 22 films over 10 days in 8 countries at 7 venues. Harriet Dobin, director of The 2016 Mandell JCC Hartford Jewish Film Festival joined The Food Schmooze® party to preview a few films and to weigh in on the correct pronunciation of Schmooze.
The festival runs from March 31 through April 10. To get more information and view the complete schedule, visit the Mandell JCC Hartford Jewish Film Festival web site.
We're most excited about two food-focused Jewish films in particular. Here's the scoop:

Dough
Sunday, April 3 – 7:30 PM, Spotlight Theaters, Hartford
Director: John Goldschmidt
It's not just the bread that's getting baked in this endearing cross-cultural dramedy about an old-school struggling baker struggling to keep his dying business afloat in London. Sparks and challah sales fly when Ayyash, Nat's new young Muslim apprentice accidentally drops marijuana into the challah dough.
In Search of Israeli Cuisine
New England Premiere: Monday, April 4 – 7:00 PM, Herbert Gilman Theater, Mandell JCC
Preceded by ZAHAV, A La Carte, 5:30 PM
Meet the chef and cookbook signing following the film
Director: Roger Sherman
James-Beard-award winning chef, Philadelphia restaurateur and cookbook author Michael Solomonov's latest culinary masterpiece is a mouth-watering cinematic portrait of Israel told through its rich array of food.