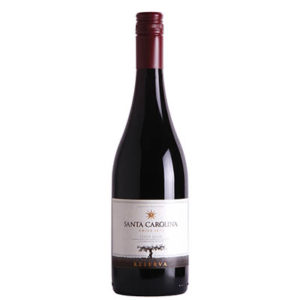 If you have a crowded table at the holidays, you want a good wine at an excellent price point. This is it! The 2013 Santa Carolina Reserve Pinot Noir, priced at $12 a bottle, tastes like bing cherries, currants, with a whisper of spice, making it very food-friendly. We've made it our new house wine.
The Chilean vineyard that makes this wine was started in 1875 when Don Luis Pereira arrived with rootstock from Bordeaux, France. They harvest by hand, the old fashioned, to this very day. Santa Carolina's pinot is grown in a seaside parcel, where fog rolls in and evenings are cool. If there's a better deal at this price for a food-friendly winner, I don't know where it is. Think Thanksgiving, people!
Call ahead to your wine store. Read them the label and be sure to tell them the regional distributor is Brescome-Barton. A good wine store will have it to you within 24 hours.
(Click the image to see a close-up of the label).