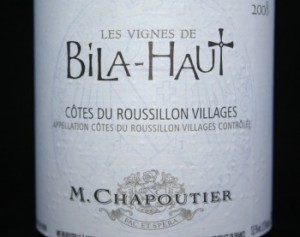 Bila–Haut 2012 (Red) from the Languedoc region of France, around $15.
(Tell your local wine store the distributor is Winebow)
Our regular contributor Alex Province turned us on to this one. On the label you'll see lots of French, as in… 2012 Cotes du Roussillon Villages Les Vignes de Bila Haut. Have no fear. This is a wine that is a very good value for the price, and perfect with grilled meats such as beef, lamb, chicken and duck.  The wine has some structure and yet is smooth in the mouth. If you're interested in grape types, it's made with a blend of Syrah, Grenache and Carignan. Expect it to open nicely in the glass after five minutes, but you can give it some encouraging sips the minute it's poured. By the way, The Wine Advocate says you can keep this in a wine cave or cellar, if you have one, for at least 5 to 6 years.