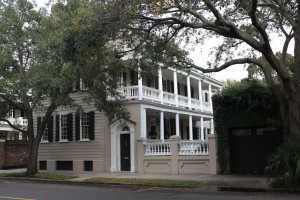 From Faith: From New York City, Charleston, S.C., is only a two-hour plane ride away, and its architecture, friendly atmosphere, and vibrant food scene are not to be missed. We stayed downtown and took mesmerizing walks each day for hours, stunned by the city's swaying palm trees, historic homes, water views and fantastic restaurants.
We swooned over chef Mike Lata's food at FIG (Food Is Good). The fish stew was one of the best and most exciting meals we've had in years, and so was his tomato tarte tatin, intense tomato flesh sitting atop a razor-thin crisp of buttery brioche. The farm raised chicken livers were made into a pate that takes a week to create, and it was the most sensational version we've eaten anywhere. Each of the vegetables in his Nine Vegetable Salad is cooked separately and sourced from local farms.
As for South Carolina shrimp and grits, everybody has a recipe and flavor profile, but we think none better than the grits served in an intense shrimp broth at the restaurant S.N.O.B. Another restaurant, HUSK, is obsessed with farm to table ingredients, and is offering well-considered food in an intriguing atmosphere.
If you're thinking of going, or surprising someone, there are many hotels downtown, including the Planters Inn, although there's an interesting historic-chic hotel a walk from the main downtown district; it's called Zero George.
Check out the history of slavery museum exhibit, as well as the too cool for school neighborhood around the gorgeous College of Charleston campus.