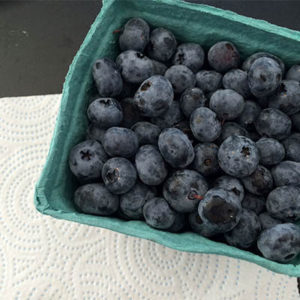 On a long drive through the Connecticut countryside, my girlfriend Amy Gross and I decided to create a pie combining our mutual loves — key lime pie and fresh blueberries. It's the easiest thing on earth because you get to choose your own key lime filling recipe from the millions out there. Here's how it works:
1. Buy Mi-Del's gluten-free ginger snaps at the supermarket or health food store. Pulverize them into crumbs, add butter and mix into a paste. Press this crumb mixture with your fingers into the bottom and sides of a glass or ceramic pie plate and bake 10 minutes.
2. When the pie shell has cooled, make a key lime custard using bottled Manhattan brand key lime juice. Top with whipped cream and fresh blueberries.
—Faith Middleton