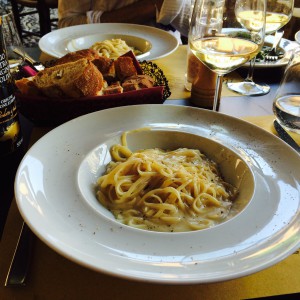 The hum from the stone patio was unmistakable, a mixture of Italian and rushing water. We were at an intimate outdoor restaurant in the heart of the walled city of Treviso, a half hour drive from Venice, and one of the best kept secrets in Italy. Our host, Treviso resident Vern Willey, whisked us straight to one of his favorite lunch spots, Odeon alla Colonna, known for its salads, fish, pasta, and especially the view.
Odeon's patio sits under a stone portico on the banks of the river. From our table we could see a series of modern sculpture pieces installed in the middle of the river, but we looked at them only until the server presented us with what Vern advised us to get, a salad of arugula, fresh nectarine, avocado and ricotta salata. That was followed by bowls of homemade spaghetti, tossed hot in Grana Padana cheese and olive oil. A super-chilled glass of Vermentino cooled us as we swooned over the pasta.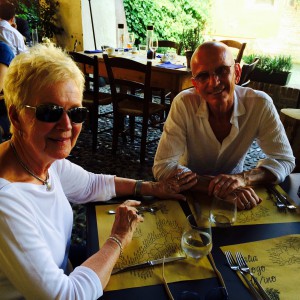 This little spot is a must, and don't hesitate to walk through the cobblestone streets, winding alongside a series of village canals, to Stefano Dassie, Vern's favorite gelato-maker. Utterly fabulous.
But not more fabulous than Treviso itself, one of the best villages I have visited in all of Italy.