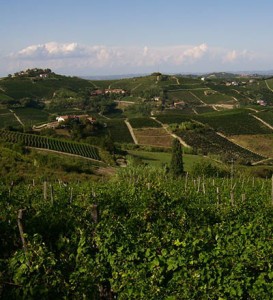 A Letter from Faith
I'm excited about this announcement. I've decided to lead a food and wine lovers trip to Italy the week of September 19, 2016. If you'd like to get on our information list to get a taste of the remarkable experiences we'll have, shoot an email to jmoore@cpbn.org.
The Piedmont region of Italy is spectacular to see. It's a part of Italy where they are still making the REAL THING when it comes to food and wine. Italians themselves travel there from other regions in the country to eat and explore the villages, architecture, museums, the vistas, the coastline, as we will.
We've teamed up with a family from the Piedmont region, Connecticut business owners who created the Carla's Pasta line, and because they know Piedmont so intimately, I've asked them to curate this trip with me. Wineries are going to host us, our hotel will have a spa, there will be music, and meals, including truffles and handcrafted pastas to swoon over, plus unforgettable scenery. All I can tell you is that our trips are the most fun, and the chefs and wineries know we're going to be reporting afterward on our experiences with them, so they knock themselves out for us.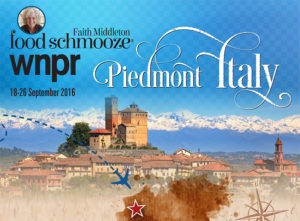 If you'd like to come with me, the Squatrito family, and WNPR/CPTV's president and CEO Jerry Franklin, for a week-long food and wine tour through the Piedmont region of Italy starting this September 18th, please download here our brochure and registration form! or contact Jennifer Moore at jmoore@cpbn.org. We'll post updates right here on FoodSchmooze.org as well.
I hope you'll come with me.
Tour Details
Cost is:
Single Occupancy: $4,800
Double Occupancy: $4,500
See the Terms and Conditions on the back of the brochure.
A deposit of $1,300 per person must be made by June 10, 2016 with the registration form.
Final payment is due prior to August 10, 2016.
The trip is Sunday, 18 September to Monday, 26 September 2016.
NOTE: The best way to get information about this trip is by emailing jmoore@cpbn.org directly, or downloading the brochure and registration form above rather than leaving a comment below.