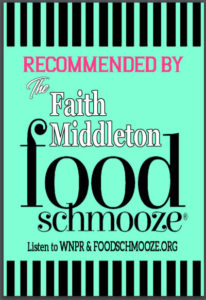 Finding a wine featured on The Faith Middleton Food Schmooze® in your local wine shop is about to get easier, thanks to wine expert Mark Raymond.
Mark had an ingenious idea that we're in the process of rolling out. At your wine store, look for our new "shelf-talker" hanging next to the wines we've taste-tested and enthusiastically recommend.
Listeners, we'll still continue to publish posts and pictures of featured wines on our website, of course, but now those bottles will stand out on the shelves of your wine store as well. You'll never miss a Food Schmooze® wine recommendation again.
Distributors, we'll work directly with you to get shelf talkers for the bottles we're excited about.
If you are a wine lover and want to recommend a wine to us, please do! If you are a distributor and want us to taste your wines, send them to:
The Faith Middleton Food Schmooze®
WNPR | Connecticut Public Radio
70 Audubon St. (2nd Floor)
New Haven, CT 06510-1248
Cheers!