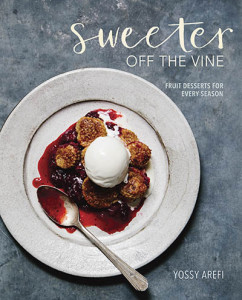 Food photographer, blogger, and now cookbook author, Yossy Arefi's Sweeter off the Vine is a dessert go-to you'll pull off the shelf season after season. And why wouldn't you? You've got to have dessert, right? And fruit. And fruit desserts are good for you. Virtuous. Healthy. Or so we tell ourselves. Let's just say this beautiful book is good for you.
Yossy's book, filled with seasonal fruit desserts, is gorgeous, for sure (you'd expect that from a food stylist), but the recipes are interesting as well. A Meyer Lemon and Grapefruit Bundt Cake makes use of the whole fruit, not just the zest and juice, creating what Yossy describes as "jammy pockets" of citrus throughout the cake. A blood orange glaze (which is actually a vibrant pink) adorns classic, old-fashioned donuts worth waking up for. Don't be intimidated. Yossy's donut dough comes together much like a cookie dough. Is it Saturday yet?
Even non-bakers like Faith and Chris found plenty to get excited about. Summer peaches soak in wine and lemon verbena syrup (how easy is that?!). A cherry-spiked sorbet evokes the best part of a classic Manhattan. Her Watermelon Granita with Chile and Lime is inspired by New York City's vibrant street-food scene. It's just-spring and already we're imagining these chill desserts on our summer dinner party menus.
There's something for every dessert lover in this book. Something for every dessert lover—in every season. To see what I mean (literally. . .watch her beautiful book trailer on her blog, Apt 2B Baking Co.)
—Robyn Doyon-Aitken
Senior Producer
Sweeter off the Vine, by Yasameen Arefi-Afshar, ©2016, published by Ten Speed Press, an imprint of Penguin Random House LLC.