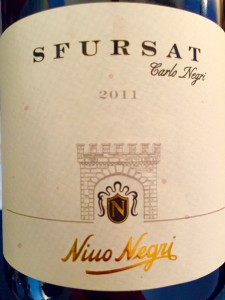 From Faith — This is one of the best and most powerful Italian wines we've tried on the show this year, and priced at $40, we classify it as a "Host Gift" or "Celebration" selection — one with a dramatic story.
The Nino Negri 2011 Sfursat dell Valtellina's Nebbiolo grapes are harvested on such valuable and steep terrain, the vineyard employs helicopters to collect them. The result is a dazzling companion to food, with a whisper of raisin similar to the revered Italian Amarone, and the head-shaking complexity of an elegant Barolo. This is a wine both powerful and smooth, qualities very hard to achieve in wine making. It's perfect with roasted meats such as turkey and beef, food with a red sauce, and dishes that need a strong partner. Having said that, it was beautiful drinking in a glass without a speck of food in sight, though food makes its flavors explode in the mouth.
Show the Nino Negri label at your wine store or call ahead to dictate the label, and be sure to tell them the worldwide distributor of this wine, 2011 Sfursat dell Valtellina, is Frederick Wildman and Sons. (Thanks to Mark Raymond of Wildman for pointing out this one to test on the show. You can hear that experience by listening now on demand on the front page. The Negri vineyard is located on the Italian border with Switzerland.)
Need more wine recommendations? Check out our four favorite wines to drink this holiday.