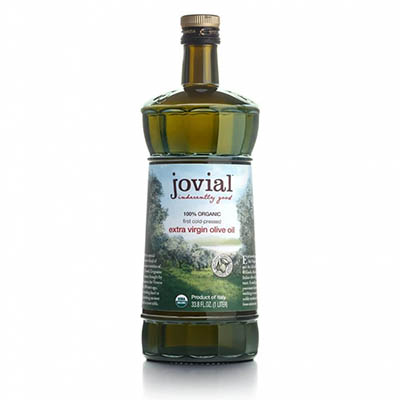 The new season of olive oil has just come out, so we were more than happy to put a few drops of Jovial Foods' Organic Cold-Pressed Reserve Blend Extra Virgin Olive Oil on our spoons and give it a taste. Jovial uses the ancient varieties of olives grown in the Veneto region of Italy: Favarol, Grignano, and Nostrano, so we knew the flavor would be something special. (The Romans brought these varieties of olives to the Veneto region of Italy around 1,000 years ago).
We were not disappointed. With initial fruitiness and a peppery kick toward the end, the fresh, pure-tasting oil is ideal, we think, for roasted potatoes, creamy homemade dressings, or drizzled over ripe summer tomatoes.
ON-DEMAND: Listen to Faith and the gang discuss Jovial's Organic Olive Oil on The Faith Middleton Food Schmooze®.
VIDEO: Learn how Jovial's olive oil is made, and how Italian producers are keeping ancient varieties of olives from becoming extinct.