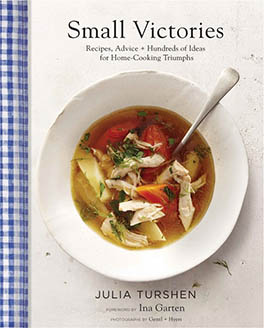 As a food writer and recipe developer, Julia Turshen has coauthored several cookbooks you, no doubt, have on your shelf right now: Mario Batali's Spain, Gwyneth Paltrow's It's All Good, and Dana Cowin's Mastering My Mistakes in the Kitchen. Ina Garten is a fan (and in fact, wrote the forward to Julia's solo debut, Small Victories). Julia's the star, here, and she's earned it.
Small Victories is all about building confidence, one recipe at a time. Master the "master" recipe, and Julia offers multiple "spin-offs" so each of her recipes is really multiple recipes. Julia lets novices discover their inner cooks. As she says, "if you can make spaghetti, you can also make rice, quinoa, or soba noodles. Truly, if you can boil water, you can make just about anything." And so it goes.
I certainly felt like a better cook after reading her book. My son and I tackled her Turkey + Ricotta Meatballs one Sunday dinner. Without egg and breadcrumbs, the meatballs have a lightness to them. With all that ricotta, they can only be moist, and the sauce was simple and really, really good. We continued eating the meatballs for much of the week.
Julia believes the only way to become a better cook is to cook, and her book will make you want to do exactly that, a whole heck of a lot of that. Weeknights. Weekends. Every spare moment. Could be the Happy Wife, Happy Life Chocolate Cake talking. We made that, too. The cake made a wife happy, a husband, a couple of kids, some grandparents. . .
Have a small victory of your own:
Turkey + Ricotta Meatballs
Happy Wife, Happy Life Chocolate Cake
Flounder with Roasted Tomatoes + Black Olives
— Robyn Doyon-Aitken
Senior Producer