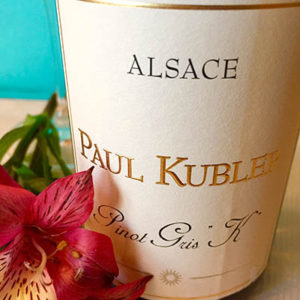 More often than not, the wines we feature on the show are in the $15-20 range. That's partly because when Alex Province or Mark Raymond get excited enough about a wine discovery to share it, we all get excited about that wine (their enthusiasm is infectious). The value wines we feature are so surprising to us, so easy to drink, so bang-for-your-buck good that we feel an obligation to our wine-loving listeners to put them out there.
But lots of listeners these days ask us to recommend wines that they can give as gifts. If you have a special occasion coming up (Mother's Day brunch, graduation party, wedding shower, special dinner), Alex shared a wine that you can feel confident giving to your host as a show of your appreciation.
The 2013 Pinot Gris, from Paul Kubler, is out of Alsace France. It's in the $30 range (depending on your wine store). If you like Pinot Grigio, you'll like Pinot Gris. It's simply the French term for Pinot Grigio, so it's the same grape varietal, same wonderful flavor. Faith described this Pinot Gris as dry, with a mineral richness.
Alex considers this a "food wine," so it's meant to be sipped with food. He says it would be perfect with a pan-fried salmon or paired with Asian flavors.
This wine is distributed by Winebow. Call your wine store with the label handy so you can describe it to the staff before heading down to the store. If they don't have it, they can order it for you.
Listen on-demand to hear Alex and Faith describe this wine.