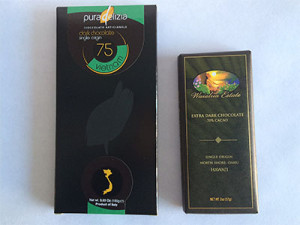 As you might guess, we're as proud as we can be of our
Conn. chocolate-makers
, who rank up there, in our opinion, with the best in the East. We also wanted to venture out beyond our region to discover a bar or two that are unknown here but worth finding. That brought us to the Oregon-based online site,
Chocosphere
, which specializes in artisanal chocolate bars. They sent us two bars they're proud of and we loved them.
ITALY:
1. Pura Delizia (left) is a family-owned Italian chocolate company, producing
a single origin bar with cacao beans from Vietnam
. In the mouth we tasted deep cacao (75%) and a hint of something bright, like citrus. If this were opera, they've somehow managed to create a bar with an alto and a soprano singing at their best.
HAWAII:
2.
Waialua Estate makes a rare bar
, (right) all American, with cacao beans (70%) grown in Oahu, Hawaii. This is one of the few cacao plantations in America. Its beans are harvested and sent for blending to Guittard Chocolate Co. in San Francisco, where they are crafted into dark smooth bars that give off berry overtones in the mouth. The estate says it does not use pesticides of any kind.