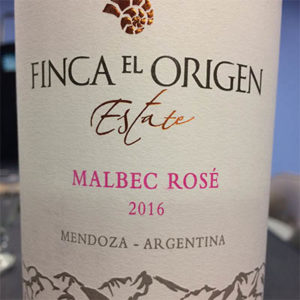 One sip and we all stopped in our tracks. What? Impossible! But, yes, after sipping this Malbec Rosé, Finca el Origen, we were amazed that this hand-crafted wine is being offered across our region for $10 a bottle. We're amazed because this is one of the best dry roses we've ever had on the show! Grab it, people. It's rich and full in the mouth, with a touch of berry in the tongue. This is a truly fabulous bargain.
Thanks to our Senior Contributor Mark Raymond for sneaking this into our tasting the other day, and welcome to my new party wine. Except for spaghetti sauce, I'd say it goes with everything.
Read the label over the phone to your wine store, or show them the label. If it's not in stock, a good wine store will have it for you within 24 hours. The distributor is Angelini. This is one of those wines to have standing by for sipping, parties, and surprise visitors. Love it!