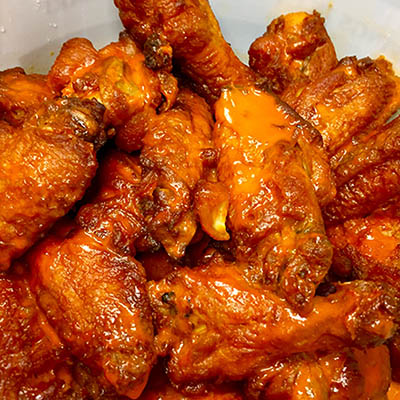 J. Timothy's Taverne in Plainville, Connecticut is famous for its dirt chicken wings, a method which gives the wings a double frying and a double saucing. It's no wonder that J. Timothy's award-winning wings turn up year after year on "Best of" and Top 10 lists.
But how to do a dirt chicken wing at home? Jim Welch, co-owner of J. Timothy's, and one of the chicken wing kings in our region, assured us that anyone can dirt chicken wings (dirt is a noun and a verb!). You don't need a restaurant-grade deep fryer or a fancy fryolator.
Cook the chicken wings through. You have a few options, here. You can do this by baking them in the oven (at 400˚) or on the grill. Or, for this first cook, Jim suggests boiling the wings—that way you're rendering out some of the fat and you're not putting the chicken under high heat twice.
Whatever method you use to cook the wings, once cooked through, sauce the wings (you can buy a prepared sauce at the market or at J. Timothy's) or make your own. Some flavor options we brainstormed on The Food Schmooze®:
Mexican Mole
Argentinian Chimichurri (parsley, garlic, olive oil, plus a splash of vinegar or citrus or crushed red pepper, if you like)
Jamaican Jerk (all spice, cinnamon, nutmeg, scallions, pickled jalapeño pepper)
Indian (curry powder, coconut milk, garlic)
Italian (balsamic vinegar, tomato paste, butter, olive oil, garlic, flat-leaf parsley)
Truffle (truffle flour, truffle oil, garlic, shaved Parmigiano-Reggiano, truffle salt)
Once sauced, put the wings under heat for a few minutes to caramelize that sauce. If you use your broiler, watch the oven carefully. You don't want to burn the sauce on, you just want to caramelize it and crisp up those wings.
Before serving, sauce those wings one more time. One man's "dirt" is another man's ultimate chicken wing.