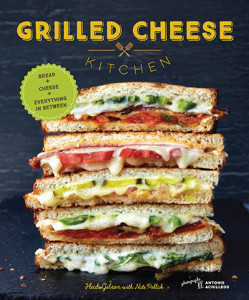 That's the question wife-and-husband team Heidi Gibson and Nate Pollak are asked most often. And boy, do these two have the answer. Heidi and Nate own The American Grilled Cheese Kitchen restaurants in San Francisco, California. (Yes, multiple restaurants devoted to grilled cheese. A one-way ticket, please!) And, the duo are grilled cheese champs—think: Chili Cook Off but with grilled cheese.
In their first cookbook, Grilled Cheese Kitchen, Heidi and Nate share their secrets to perfect grilled cheese, as well as recipes for classics and over-the-top versions. Way over the top. Like, a towering Grilled Cheese Birthday Cake. Yup. Heidi served one at a friend's wedding and guests devoured the cake in five minutes flat. Understandable.
There are grilled cheese recipes of every imaginable combination in this book. Simple grilled cheeses. Fancy grilled cheeses (we're looking at you, Truffled Grilled Cheese with Bacon and Chives). There are grilled cheeses to pair with beer, wine, or sparklers, even Champagne. Some people think no one throws dinner parties anymore. That's not true. It's just that now we serve grilled cheese. With recipes like Heidi's and Nate's at our fingertips, who could blame us?
—Robyn Doyon-Aitken
Senior Producer
Grilled Cheese Kitchen by Heidi Gibson with Nate Pollak. Published by Chronicle Books, 2016. Copyright © 2016 Heidi Gibson and Nate Pollak. Photographs Copyright © 2016 by Antonis Achilleos.