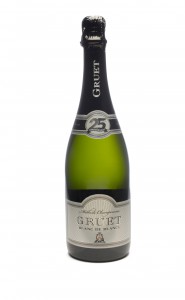 Jacques Pépin asked me to tip my glass in his direction, and he poured me a glass of delicious sparkling wine, made in the Champagne style. When I tipped my glass a second time and asked what it was, he said, "Good, yes? It's Gruet Blanc de Blanc." Even more surprising, Gruet (pronounced Groo-ay) is a respected house in the Champagne region of France that decided to open an outpost in New Mexico, where the land elevation is perfect for sparkling wine, and there are few pests requiring pesticides. Gruet is making its sparklers in the organic way in New Mexico, good news for all since grape-growers use heavy pesticides, typically.
Gruet's Blanc de Blanc sells for $18 and under, and is 100 percent chardonnay grapes. It's a great way to get a party started, bright and crisp, so it stimulates the taste buds, according to Jim Brewer of Winebow.
Gruet's Brut is $17 and under, a combination of chardonnay and pinot noir grapes, with more body to match grilled chicken, fish, shellfish and pork. (If you're serving beef or sausages, go with a rose sparkling wine.)
If you wine store does not carry Gruet, simply tell them the distributor is Winebow and they should have it to you in 24 hours.