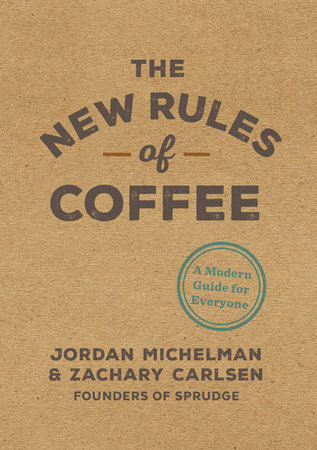 Maybe you start your day with a cup of coffee. Maybe you even consider yourself a true coffee fanatic. If you are even the slightest bit coffee-curious, read The New Rules of Coffee by Jordan Michelman and Zachary Carlsen. The founders of the everything-coffee website Sprudge.com, Jordan and Zachary have packed a lot of coffee knowledge into a little book that stands about as tall as your standard medium (or is it grande?) coffeehouse coffee. In The New Rules of Coffee, the authors detail the vast world of coffee and its evolution. And what a world it is.
Didn't know that coffee begins as a fruit? Now you do (that's Rule 1). Think darker coffee is stronger than lighter coffee? It's not. Think you need fancy equipment to make a fabulous cup of coffee at home? You don't! There are so many reasons to be excited about coffee right now that we stopped counting around Rule 13—which, by the way, is that you MUST clean your coffee gear! The authors allow plenty of leeway for personal taste and coffee preferences, but cleaning your coffee equipment is a non-negotiable. There are fun rules for pairing coffee, rules that dispel coffee myths, and rules for coffeehouse etiquette, too.
There's also a sense of optimism running through the book (or were we just feeling good because we drank several cups of coffee while reading?). The authors are expressive and progressive and serve as warm, authoritative guides without lapsing into judge-y flavor police rolls. They have opinions and preferences, for sure, but you won't get the side-eye for loving flavored coffee, for example. Modern coffee experiences—at home, in the coffee shop, and around the globe—are increasingly about inclusivity, connection, and expression. That's the new rule, not the exception. We'll raise our mugs to that.