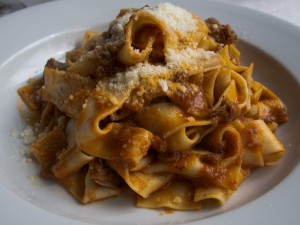 From Faith: Start your engines. The lunch I just had at a NYC restaurant was so good I went two days in a row. Via Carota is a dazzler at 51 Grove Street in the West Village, where Jody Adams and Rita Sodi of Italy, partners in business and domestic life, are turning out food made with authentic Italian ingredients and the greatest care. Beyond that, it is their expert judgement about those seasonal ingredients and recipes that make eating at Via Carota a treasured experience. If I could eat there every day, I would.
We started with chicken livers on brittle crostini ($8), chicken livers like none other, flavored with fresh lemon. We ate a plate of broccoletti ($13), or broccoli rabe, cooked to perfection in an exquisite olive oil with garlic and chilies. On we went to crisp fried artichoke hearts ($16) that were heavenly, served with an aioli. Next, we shared homemade pappardelle pasta with a rich, unforgettable wild boar ragu ($19). But the sensation for me was the risotto limone ($18), risotto cooked perfectly in a sauce of olive oil, cheese, and lemons. Chef Jody Adams said to us after the meal, while we were attempting to kiss her feet, "Ideally, wait until you try this with Meyer lemons." She had this devilish look on her face. Our main courses were terrific — spicy albacore tuna and carona beans ($17) and vitello tonnato ($19), paper-thin slices of chilled veal with tuna and capers. The good news is there is so much we haven't tried!
There are no reservations at Via Carota, but we had no trouble recently scoring a table at 2 on Saturday and Sunday afternoons. Dinner will be crowded. There are outdoor tables and the wine and cocktail menu is innovative. Dress is casual. Trust me, you will think you are in Italy; no, you won't think you are; you are in Italy eating at Via Carota.