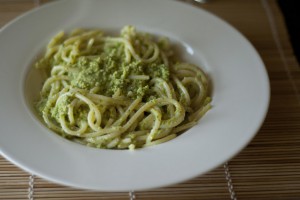 Our featured pesto recipe is in Nancy Harmon Jenkins new cookbook, Virgin Territory, about the culture and practice of making olive oil in the Mediterranean region. Each of her recipes, which are her own or those of her friends, have olive oil as an important ingredient.

Combine the parsley, basil, mint, sage, rosemary, thyme, chile pepper, garlic, and oil in the bowl of a food processor. Pulse in spurts until well combined, then add the sugar, almonds, and cheese. Process very briefly, just to mix well—the almonds should not be over-processed. Taste, and add salt if necessary (there may be enough salt from the cheese).

Bring 5 to 6 quarts water to a rolling boil. Add salt, and when it comes back to a boil, cook the pasta in the boiling water. When the pasta is almost done, extract a ladleful of pasta water and add to the pesto to thin it slightly. Drain the pasta and mix it with half the pesto, then turn it into a warmed serving bowl or platter. spoon the rest of the pesto over the top and garnish with the diced tomatoes. Serve immediately.