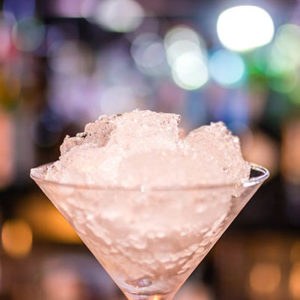 Connecticut bartender Anthony DeSerio never backs down from a challenge. When Faith asked him to create a snow-inspired cocktail, he created this hot little number featuring aged rum and amoretto. Suddenly, we're hoping for at least two inches of the white fluffy stuff we New Englanders love to hate. Snow, already! There, we said it. And we're not sorry.

Combine the rum, lime juice, simple syrup, and amoretto in a highball glass, add a handful of clean snow; stir to blend. Drop the spent lime into the drink.

Add more snow to the glass (fill to the brim). Insert a long bar spoon, holding it between your palms, and swizzle by sliding your hands back and forth until the glass is frosted.

Add a bit more snow; it should rise above the top of the glass mounded slightly. Top with the bitters.

Garnish with a mint sprig and a light dusting of confectioners' sugar.