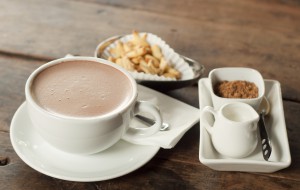 Since cocktail parties have gone the way of the DoDo bird, try a hot chocolate party instead. Everybody loves it, and you're part of a long tradition — hot chocolate was reportedly served at Catholic mass in Spain ages ago. (And you thought folk mass was something?)
(Faith Note: You can skip all this and follow the super simple recipe on packages of spicy, inexpensive Ibarra chocolate from Mexico, often found at Whole Foods, Latin markets, Citarella, and other food stores. By the way, I really do sprinkle the top of plain whipped cream with crushed dark chocolate-covered pretzels. Crazy good paired with hot chocolate.) 
Whisk evaporated milk, whole milk, liquer (if using), vanilla, sugar, cocoa, 1 teaspoon cinnamon and chili powder in a heavy saucepan.

Add two of the cinnamon sticks and the chile and cook gently over medium-low heat until warm.

Add chocolate pieces and cook, whisking until melted.

Gently bring to a high simmer; reduce heat and simmer until liquid thickens and reduces slightly, whisking often, for about 10 minutes.

Combine the heavy cream with the remaining 1/2 teaspoon cinnamon and beat until peaks form.

Ladle 1/3 cup hot cocoa into each of 8 teacups; top with 1 tablespoon whipped cream and garnish with a cinnamon stick.