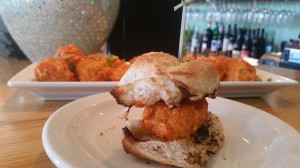 Bryan Cole is a chef at Metro Bis in Simsbury, Connecticut and our official buffalo chicken editor. We became devoted followers after tasting Bryan's Buffalo chicken dip a few years ago… we now defer to Bryan for all things Buffalo style.
His latest creation… drum-roll please…  Buffalo chicken meatballs.
posted: December 2014

Servings:
2 dozen meatballs
In a large mixing bowl combine the ground chicken, egg, ¾ cup bread crumbs, crumbled blue cheese, ½ cup of the buffalo wing sauce, celery salt and cumin. Mix well. If still wet adjust with more bread crumbs.

In a large pot combine the tomato sauce with the remaining ¼ cup buffalo wing sauce. Form the chicken mixture into ping pong sized balls and add to the sauce. Should make about 24 balls depending on size. Put pot on stove over low heat and bring to a simmer. Simmer until meatballs cook through about 12-15 minutes.

Serve with potato slider rolls.