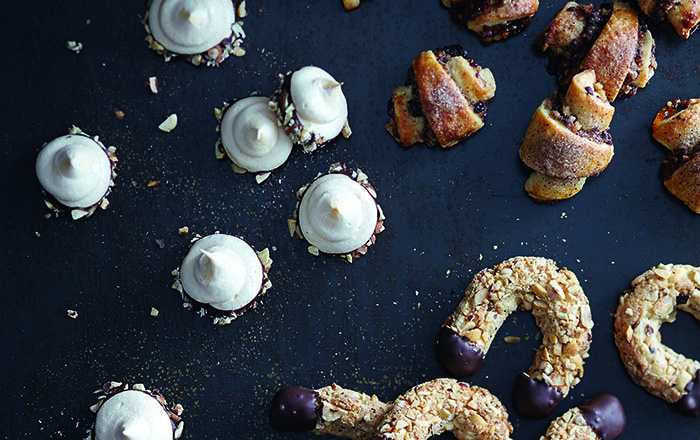 Every year when I was growing up, my mom would make meringues for Passover. They were incredible—voluminous and airy with a crackly exterior and melt-in-your-mouth tenderness. And despite being a bona fide dessert, they were about 80 percent egg white, which meant I could eat lots and not feel stuffed or guilty for having too much dessert. And I did. Eat lots, I mean.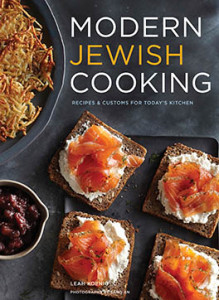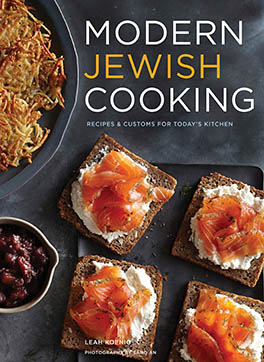 Reprinted with permission from Modern Jewish Cooking, ©2015 by Leah Koenig, Photos by ©2015 Sang An. Published by Chronicle Books, LLC.

Preheat the oven to 250°F/120°C and line a baking sheet with parchment paper.

In a stand mixer or using a handheld electric mixer fitted with the whisk attachment and a large bowl, beat the egg whites on medium speed until foamy, 30 to 60 seconds. Beat in the cream of tartar until just combined. Beat in the confectioners' sugar in two additions, followed by the super¬fine sugar, beating on medium-high speed for 1 minute after each addition. Continue beating until the mixture is stiff and shiny but not dry, about 1 minute more.

Spoon the meringue into a pastry bag fitted with a 1/2-in/12-mm plain or star tip. Pipe 1-in/2.5-cm rounds of meringue onto the prepared baking sheet, leaving 1/2 in/12 mm of space in between them. Bake until dry, about 1-1/2 hours. (Meringues are done when they release easily from the parchment paper.) Turn off the heat, but allow the meringues to remain inside the oven to crisp up, about 1 hour. Remove from the oven and let cool completely.

Melt the chocolate in a double boiler set over simmering water. (Or melt in the microwave in a microwave-safe bowl at 30-second intervals, stirring between each interval until fully melted.) Spread the chopped almonds in a shallow dish. Once cool, dip the bottom of each meringue in the chocolate, then dip in the almonds. Place back onto the parchment-lined baking sheet and let stand until the chocolate sets. Store in the refrigerator between layers of parchment paper in an airtight container for up to 5 days, or freeze for up to 1 month. Let come to room temperature before serving.
Make your own superfine sugar (also called castor sugar): Pulse granulated sugar in a food processor until finely ground but not powdery, about 30 seconds.
If you do not have a pastry bag, substitute a sturdy zip-top resealable bag. Spoon the meringue into the bag, then cut off about 1/4 in/6 mm of one of the corners and pipe the meringue through it.
Avoid making these cookies in the middle of summer—the heat and humidity make the egg whites get weepy.