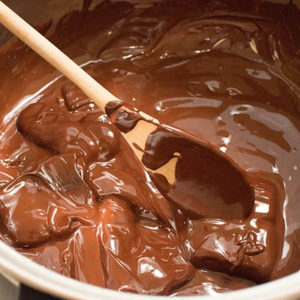 Leave it to Chris Prosperi to find yet another genius use for the slow cooker. This time, he's helping you get a fun dessert on the table—or actually, just keep this out, on warm, for the duration of the party. And fondue. . .well, it never goes out of style.

Servings:
-6 people (possibly more)
Heat a slow cooker with insert on high until hot. Put all the ingredients in, cover, and cook on high for 10 minutes (or longer if the chocolate hasn't melted—but keep an eye on it). Once the chocolate is mostly melted, whisk the ingredients together and set to warm.

Set out bowls of strawberries, pineapple, raspberries, pound cake, pretzels, candied citrus peels, and marshmallows (or anything else you like) for dipping into the chocolate.
Note: 140˚ is the perfect temperature for smooth, creamy, melty chocolate.