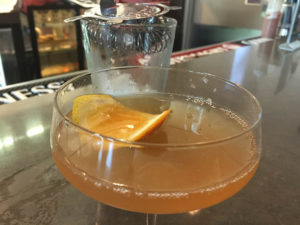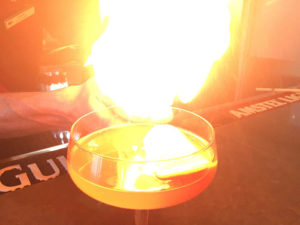 Chief bartender James Humphrey is making a fabulous cocktail, Cider House Rules, at the Time Out Sports Bar, Hilton Doubletree, Bristol. Think Jack Daniels whiskey, cinnamon infused Jack Fire, Domaine de Canton and farm fresh apple cider. He lights a match to the orange rind just before serving, to flame-scatter orange oil onto the top of the drink. Great bar, really good bar food, nice crowd from ESPN down the street — and the best giant TVs around.
Cider House Rules, $11. What a Thanksgiving cocktail!
—Faith

Shake all ingredients over ice, strain, add an orange rind twist to the glass.