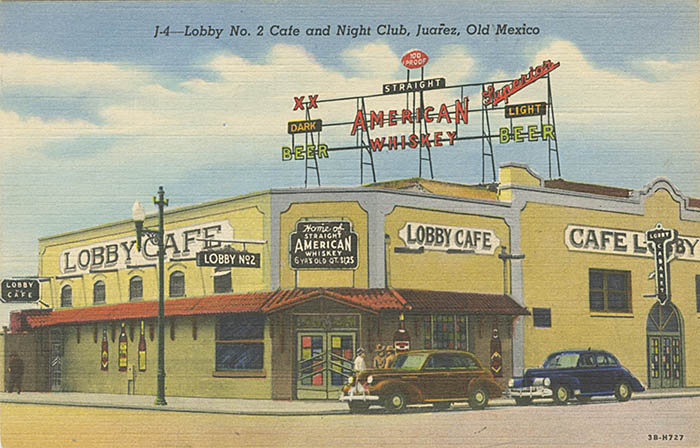 The Conga Cooler was one of the many potions created by head barman Pancho Morales at Tommy's Place in Ciudad Juárez, Mexico, in the early 1940s. Signs over the bar advertised drinks to "Hemingway types" and soldiers who were living in the moment. Morales claims to have created the Margarita, and other interesting concoctions such as the "P-38" and "B-29" named after World War II military aircrafts. The Conga Cooler was by far the most popular drink at Tommy's. It was touted as "famous and original with refreshing qualities and a long remembered taste," in the local papers.
Tommy's was one of the many nightspots that clustered around the Santa Fe Bridge connecting Ciudad Juárez and El Paso, Texas. The two cities shared economic, cultural, and ethnic bonds and benefited from each other's proximity. An aggressive marketing campaign encouraged travelers, businesses, and homebuyers throughout the United States to discover El Paso.
One could enjoy the amenities of a modern American city, and at the same time partake in the pleasures of Mexico just minutes across the bridge. Old-world charm, a foreign atmosphere, and legal drinking and gambling were guaranteed. El Paso was also an important tourist stop for adventure seekers on their way to and from Carlsbad Caverns in New Mexico.
The city of Juárez benefited from Americans' penchant for good fun, food, and drink. Tourists had no difficulty filling their vacation calendars to enjoy Mexican bullfights and horse racing. Restaurants and bars advertised businessmen's lunches, quality dining, top-shelf alcohol, and refined entertainment in the evenings. While some floorshows included magicians and comedians, most included American or European orchestras alternating blues, jazz, or dance music of the tango or Charleston. "Mexican Tipica" orchestras performed traditional music in regional costume. The Lis Follies claimed their entertainment was "peppy and will keep one keyed up from the start to the finish!"
American soldiers from nearby Fort Bliss were welcomed at Tommy's Place to enjoy the air-cooled comfort, home-cooked meals, and good fellowship. With so many drink choices at the bar, it's no wonder that Tommy's was a popular respite for the military patrons.
— Diane Lapis and Anne Peck-Davis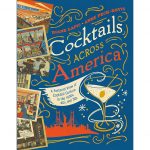 Excerpted from Cocktails Across America By Diane Lapis and Anne Peck-Davis. Published by Countryman Press, copyright © 2018 Diane Lapis and Anne Peck-Davis.

Pour all ingredients, except club soda, into an Old Fashioned glass and stir. Fill with large ice cubes and top with soda. Stir again. Add lemon peel garnish.