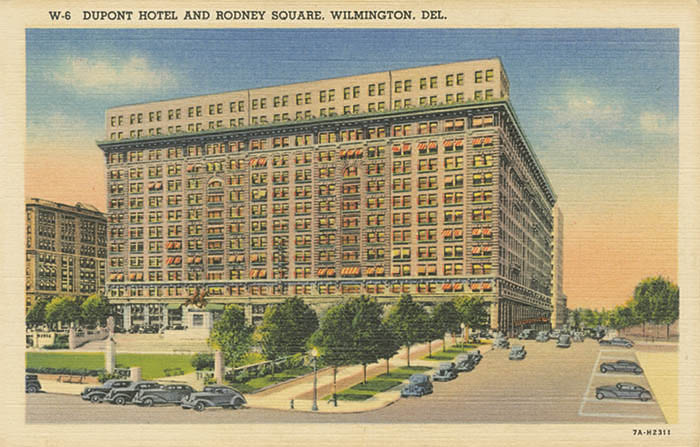 The Renaissance-style Hotel du Pont opened to great fanfare in 1913. Pierre S. du Pont was president of the DuPont Company, one of the largest chemical companies in the world. He conceived the idea to give the city of Wilmington, Delaware, the most beautiful hotel in the country. During the first week of operation, 25,000 people streamed into the building to view this no-expense-spared hostelry. Guests could dine in the elegant Green Room, lodge in one of 300 guest rooms and enjoy the theater all under one roof. A palatial 1,220-seat theater called the Playhouse was built within the walls of the hotel. The theater's construction was considered to be a remarkable technical feat of its day. The hall showcased Broadway's dress rehearsals and local performances.
For decades, the Hotel du Pont's Grill Room was the social heart for Delawareans. It featured a long bar, welcoming fireplace, and wainscoting and pillars decorated with beer-drinking and card-playing gnome carvings. After dining in the exclusive Green Room, patrons would walk down the rose marble staircase to the Grill Room, enjoy a cocktail and dance to five-star orchestras and bands. During Prohibition, the Grill Room served only lunch, but a well-known bootlegger delivered whiskey to hotel guests hidden in men's and ladies' clothing boxes with the logos of Wilmington's finest shops. Mr. du Pont, although a conservative drinker, did not agree with Prohibition and worked toward its repeal. He helped draft liquor laws for Delaware as the chairman of the Delaware State Alcoholic Beverage Commission.
The Hotel du Pont's guest rooms featured nylon upholstery, curtains, and rugs. It was DuPont that developed and introduced this synthetic fiber to epic crowds at the 1939–40 New York World's Fair. Live models "Miss Chemistry" and "Miss Nylon" wore and demonstrated nylon stockings as an inexpensive alternative to wearing silk. Consumer production halted during World War II as DuPont manufactured nylon exclusively for war materials. As soon as the war ended, nylon riots ensued throughout the nation with women lining up by the thousands to purchase a limited supply of hosiery. The use of nylon fabrics in blouses, scarves, gloves, dresses, and hats made fashionable clothing affordable to the mass-market.
The Grill Room was bursting with 400 celebrants on New Year's Eve in 1947. Dinner and dancing returned to the hotel after a long hiatus due to the war. Women donned evening gowns and were seen on the arms of soldiers in dress uniforms. A toast to the end of the war and a sip of the Du Pont Hotel cocktail was a perfect way to welcome in a hopeful 1948.
— Diane Lapis and Anne Peck-Davis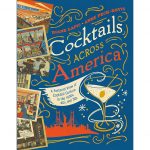 Excerpted from Cocktails Across America By Diane Lapis and Anne Peck-Davis. Published by Countryman Press, copyright © 2018 Diane Lapis and Anne Peck-Davis.

Stir with ice and strain into cocktail glass. Serve with a twist of orange peel.