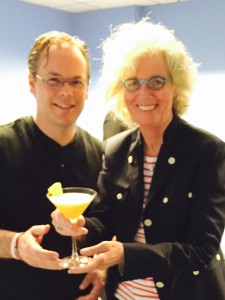 Feeling whimsical, and in the mood for a cool cocktail one very hot afternoon, I began dreaming of a Dark & Stormy, a cocktail usually made with dark rum, lime and ginger beer. Why isn't it ever served frozen, I wondered? The experiments began, one involving a Key Lime sorbet I discovered at the snappy new Guilford Food Center on the Guilford Green. Instead I asked them to cut up one of their fresh pineapples for me. I went home and froze the chunks.
So here's my Frozen Dark & Stormy. I highly recommend Fever Tree Ginger Beer, pale in color, because there is no artificial color, just strong ginger flavor. (It is sold in many liquor stores now.)
In a blender mix together the rum, lime juice, frozen pineapple and ice cubes. Blend until well mixed and smooth. Taste. Want it sweeter, add a teaspoon of lemon or lime sorbet and buzz again, quickly. Pour the contents into a martini or short glass, leaving room on top for a healthy splash of ginger beer. Garnish with a chunk of pineapple or a lime slice. Enjoy!