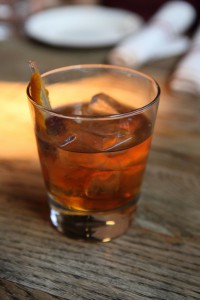 Our cocktail contributor Anthony DeSerio knocked us out on the show by whipping up a mouth-watering Old Fashioned, combining an aged rum with black walnut bitters, served on ice. Feel free to use whatever rum you have on hand, though Anthony, who is an ambassador for Patron, used his sponsor's Pyrat XO Reserve aged rum. (Faith loves this brand because it sips like a smooth aged cognac with a whisper of caramel.)
The Fee Brothers black walnut bitters can be found or ordered at most liquor stores. Call ahead to make sure it's in stock.

Make a simple syrup by combining 1/2 of a cup of Sugar in the Raw (or regular sugar) with 1/2 of a cup of hot water. Stir until the sugar dissolves, then chill the syrup in the refrigerator. It will keep for several months.

In a glass jar or cocktail shaker, combine all the ingredients -- the simple syrup, rum, and black walnut bitters. Add ice and stir until the drink is very cold. Strain the cocktail into a short glass filled with ice cubes. Drop in a twist of orange rind if you like to garnish.