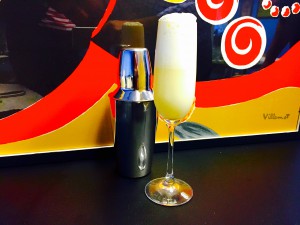 From Faith: While I was fast at work trying to create a frozen Dark & Stormy, our frequent cocktail contributor Anthony DeSerio was mixing, shaking and tasting to create his own cocktail using ginger beer. (Not just any ginger beer, but our very favorite, made by Fever Tree. There are no artificial colors in it so it's the color of lemonade, not root beer; its ginger flavor is powerful.
Anthony turned to one of his favorite cocktails of all time, the Ramos Fizz, and morphed it into a delicious Ginger Bee Pina Colada. He uses dark rum, a simple syrup blend of hot water and sugar, a touch of heavy cream and frozen pineapple.
Make simple syrup by stirring together 1/4 cup sugar and 1/4 cup boiling water. Cool in the fridge.

In a cocktail shaker without ice, combine the rum, lime juice, simple syrup, egg white (if using) and heavy cream. Shake vigorously until well blended. Pour the mixture into a blender with 1/4 cup of frozen pineapple chunks and a handful of regular ice cubes. Blend well.

Pour the mixture into a martini or highball glass. Leave room to top the drink off with a healthy splash of ginger beer. Taste. Want more ginger beer? Add some. Garnish with a chunk of pineapple or wedge of lime.
For simple syrup: (stir together 1/4 cup sugar with 1/4 cup boiling water & cool.)