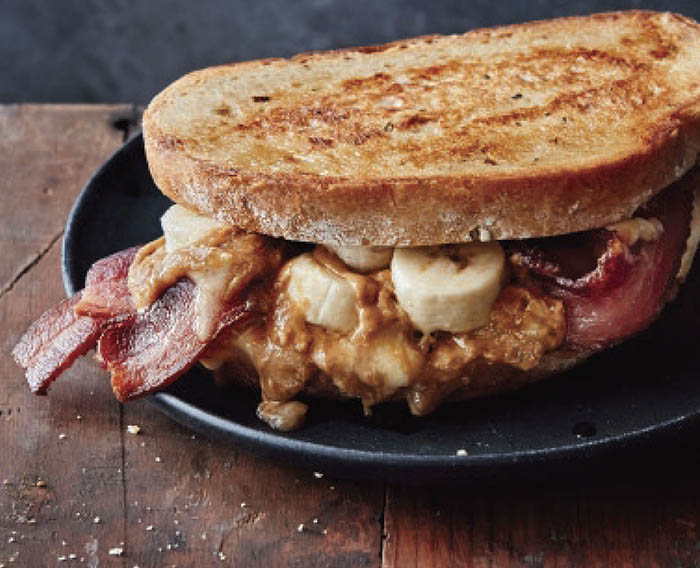 All hail the king! We regularly had live music—everything from jazz to solo piano to country rock—at my first restaurant, The Foundry on Melrose. But I like to think it was our Halloween performance that was the crowning jewel. Every October 31, I'd don a white onesie with a cape, team up with a rock-and-roll quartet, and belt out six of my favorite Elvis songs. In homage, I felt I had to take the time to turn Elvis Presley's favorite sandwich—peanut butter, banana, and bacon—into a grilled cheese. Here are two of America's great ambassadors combined into many delicious bites!
— Eric Greenspan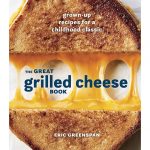 Reprinted with permission from Great Grilled Cheese: Grown-Up Recipes for a Childhood Classic by Eric Greenspan, copyright © 2018. Published by Ten Speed Press, an imprint of Penguin Random House. Photography credit: Colin Price © 2018

For the peanut butter spread
Preheat the oven to 350°F. Place a large wire rack on a sheet pan. Line a platter with paper towels. Arrange the bacon slices, well spaced, on the rack. (The bacon will cook up crispier on the rack while the fat collects in the pan. This is key to the bacon remaining crisp in a grilled cheese.) Place in the oven for 15 to 20 minutes, until crisp. Transfer the bacon to the prepared platter to drain. Scoop up 2 tablespoons of the bacon fat from the sheet pan to use for the spread.

To make the spread, in a small saucepan, combine the peanut butter and cheese, place over low heat, and stir just until soft and well mixed. Transfer to a food processor, add the bacon fat, and process until smooth.

Line up half of the bread slices on a work surface. Slather one-fourth of the spread on each slice, then top with one-fourth of the banana slices and 2 bacon slices. Close the sandwiches with the remaining bread slices.

Line a large platter with paper towels. In a skillet over high heat, melt 1 tablespoon of the butter. Turn down the heat to low, add 1 sandwich, and cook, turning once, for 2 to 3 minutes on each side, until browned and crisp on both sides and the cheese is melted. Transfer to the prepared platter to blot the excess grease. Repeat with the remaining butter and sandwiches.

Cut the sandwiches in half, plate, and serve.