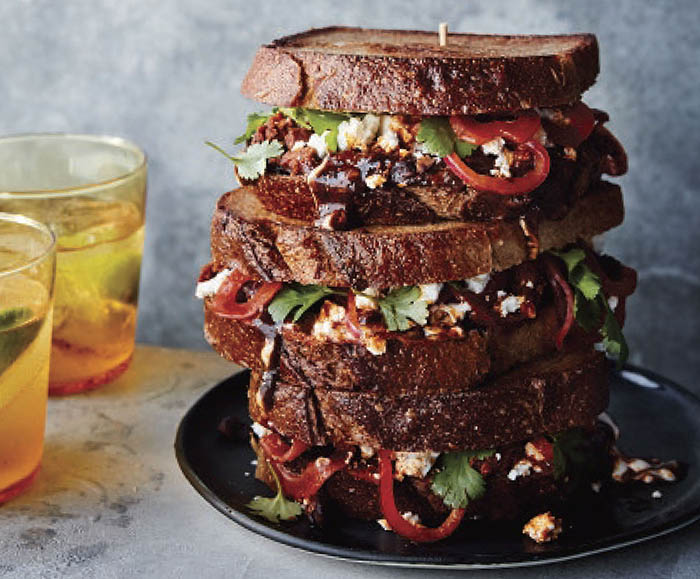 I live and work in Los Angeles, so Mexican culture constantly inspires my food. Like a grilled cheese, a mole, when done well, shows incredible depth of flavor and attacks all of the tongue's senses. But while most moles take three days to make, this recipe is an easy "cheat" that turns out a great one in a very short time.
The sweet and spice of the mole play off the richness of the chorizo and black beans, and the spicy marinated onions bring all of the flavors together. My favorite Mexican restaurant in Los Angeles, The Garden of Taxco, has a saying: "It's not hot, it's spicy." The Mole Melt lends truth to the saying.
— Eric Greenspan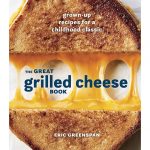 Reprinted with permission from Great Grilled Cheese: Grown-Up Recipes for a Childhood Classic by Eric Greenspan, copyright © 2018. Published by Ten Speed Press, an imprint of Penguin Random House. Photography credit: Colin Price © 2018

To make the chorizo and beans, in a saucepan, heat the canola oil over high heat. When the oil is hot, add the chorizo, turn down the heat to low, and cook, stirring occasionally, for about 10 minutes, until the chorizo has rendered its fat and is cooked through. Add the beans and stir vigorously until the beans break up and are mashed with the chorizo. Remove from the heat.

To make the mayonnaise, in a small saucepan, combine the chocolate, orange juice, peanuts, apricots, raisins, chiles, garlic, cumin, and coriander and bring to a boil over high heat. Boil for 5 to 7 minutes, until the fruit and garlic are tender, the chocolate is fully melted, and the juice has almost fully evaporated. Transfer to a blender, add the mayonnaise, and process until smooth. Let cool.

To make the marinated onion, using a mandoline or a Japanese vegetable slicer, cut the onion into paper-thin slices. Put the slices into a small bowl, add the hot sauce and lime juice, toss to mix, and let marinate for 2 hours.

Line up half of the bread slices on a work surface. Spread 2 tablespoons of the mayonnaise on each slice, then top with ¼ cup of the bean-chorizo mixture and one-fourth each of the cheese, marinated onions, and cilantro leaves. Close the sandwiches with the remaining bread slices.

Line a large platter with paper towels. In a skillet over high heat, melt 1 tablespoon of the butter. Turn down the heat to low, add 1 sandwich, and cook, turning once, for 2 to 3 minutes on each side, until browned and crisp on both sides and the cheese is melted. Transfer to the prepared platter to blot the excess grease. Repeat with the remaining butter and sandwiches.

Cut the sandwiches in half, plate, and serve.