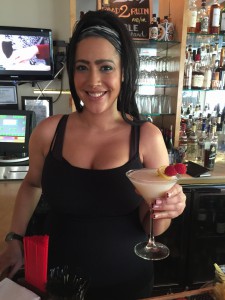 Faith has been talking about and  tasting cocktails non-stop in recent months with Michelle Draper, the impressive and innovative bartender at Whitfield's on the Guilford, Conn. Green. That's why Faith asked Michelle to give us recipes for two of her most delicious creations, one featuring a creamy limoncello and the other starring a maple bourbon made in Vermont.
CREAMY LIMONCELLO MARTINI
Mix together in a measuring cup the bourbon, agave/lime syrup, set aside.

Fill short cocktail glass with crushed ice to near top. Massage the mint sprigs over the ice so that essential oils mist onto the ice. Put sprigs on top of ice. Pour the bourbon mix over the mint and ice. Stir gently once. Squeeze one charred lime slice over the cocktail and push the other slice into the glass. Sip and enjoy.
CREAMY LIMONCELLO MARTINI
Mix together fresh lemon juice with agave, set aside.

In an ice filled shaker, add all the ingredients, including the lemon/agave mix. Shake until it's too cold to hold. Strain into martini glasses. If you have the time, stick two raspberries and a half lemon slice on a toothpick and drop it into the glass.
(Note: Call ahead to your liquor store and say that Creamy Limoncello is sold by Brescome & Barton Distributors to be sure they have it for you within 24 hours.)