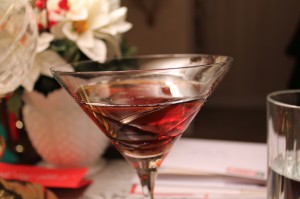 'Tis the season for holiday cheer… and if you're looking for something a little different in the "cheer," category give the Figgy-Orange Cocktail a try. This recipe from Food & Wine combines the beautiful flavors and aromas of the season in one festive glass.
The cocktail calls for Punt e Mes, which is an Italian vermouth. It's dark brown and has a bitter flavor, similar to Campari, perfect for rounding out the sweetness of the orange juice.
In an ice-filled cocktail shaker, combine the bourbon, Punt e Mes, orange juice, simple syrup and bitters. Shake well. Strain the drink into a chilled coupe. Garnish with freshly grated nutmeg.
To make simple syrup, in a small saucepan, dissolve 1 cup of granulated sugar in 1 cup of water over moderate heat; for rich syrup, use 2 cups demerara or turbinado sugar and 1 cup of water. Let cool before using, and reserve the rest for another use.