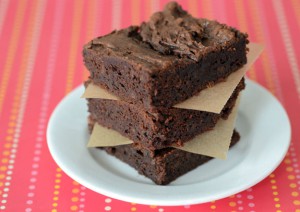 These five-ingredient dark chocolate, flourless brownies are mouth-watering and intense, just like they should be, minus the flour and butter, and in some circles that means better for you. Coconut sugar is the natural sweetener, blended with eggs, vanilla, and Spectrum all-vegetable shortening. (Your favorite dark chocolate chips are the way to go; we love Ghirardelli or Valrhona, but go for what you like. And don't be afraid to add a touch of salt, a wonderful balance against the sweetness.)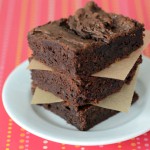 Recipe from Paleo Cooking from Elana's Pantry: Gluten-Free, Grain-Free, Dairy-Free Recipes, by Elana Amsterdam, published by Ten Speed Press, 2013
| | | |
| --- | --- | --- |
| | | Recipe from Paleo Cooking from Elana's Pantry: Gluten-Free, Grain-Free, Dairy-Free Recipes, by Elana Amsterdam, published by Ten Speed Press, 2013 |
Preheat the oven to 350°F. Grease an 8-inch square baking dish with shortening.

In a medium saucepan over very low heat, melt the chocolate chips until smooth. Remove the pan from the heat, then mix in the shortening and coconut sugar. Stir in the eggs and vanilla extract until thoroughly combined. Pour the batter into the prepared baking dish.

Bake for 20 to 25 minutes, until a toothpick inserted into the center of the brownies comes out with just a few moist crumbs attached.

Let the brownies cool in the baking dish for 1 hour. Cut into 16 squares and serve.