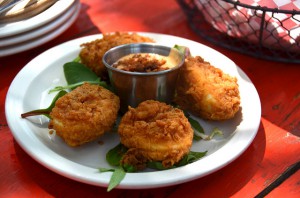 These melt in your mouth — nicely seasoned traditional deviled eggs, dipped in bread crumbs, a little egg and flour, then fried in peanut oil to give them a crispy exterior.
Cut the boiled eggs in half lengthwise and place the yolks in a bowl. Add the mayonnaise, mustard, chives, salt, and pepper. Mash mixture with a wooden spoon until it's well blended and smooth. Spoon the yolk mixture into the empty egg whites and set aside.

In a deep fryer or cast iron skillet, heat about two inches of oil until it registers 350° degrees on a deep-fat thermometer.

Dredge the stuffed eggs very lightly in the flour, dip into the beaten egg, and dredge very lightly in the bread crumbs. Using a slotted spoon, lower the eggs in batches into the hot oil. Fry until golden brown, turning once, about 3 or 4 minutes, and drain on paper towels. Please be sure to serve them hot.