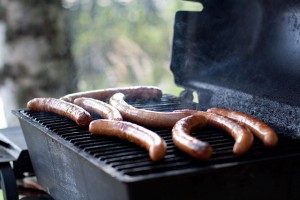 Author Brooke Parkhurst says her husband Jamie hasn't met a street food he doesn't like. His all-time favorite is a sausage and pepper sandwich. Brooke lightens it up in a Mediterranean way with mint, feta and watercress, stuffed into Pita-style pockets along with the grilled sausage.

Combine the sliced onions and red wine vinegar in a large bowl. Set aside to marinate for 15 minutes while you prepare the remaining ingredients.

Pierce sausages all over with the tip of a knife and place on a grill or in a preheated oven (350˚) to cook through. While sausages are cooking, add the watercress, feta, mint and olive oil to the marinated onions. Mix well and season to taste with salt and pepper.

Warm pitas on the grill or in the oven; then cut away the top ¼ of the pita, leaving a large pocket to be stuffed.

When the sausages are cooked and cool enough to handle, slice into ½-1 inch thick pieces and toss in the bowl with other ingredients. Divide the mixture into quarters and stuff in pitas.