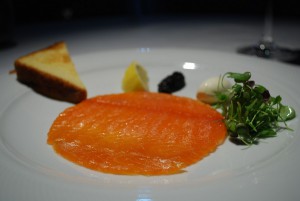 From Faith: It takes minutes to make this appetizer. Buy flat tostada shells (or mini cups) at the supermarket. Mix together yogurt, jarred horseradish and mayo. Layer on smoked salmon. Sprinkle with olives or chives and a splash of tequila. Done!
You'll find this recipe in his new cookbook, Jacques Pépin, Heart and Soul in the Kitchen, featuring the food Jacques likes to make for family and friends.
If you keep the following ingredients in your fridge, you can do what Jacques does, whip this together for your family and friends even when they're unexpected. As for me, this is a go-to midnight snack.

Mix together the mayonnaise, yogurt, and horseradish in a small bow. Spread equally on the tostadas. Arrange the salmon slices on top and sprinkle the olives over the salmon. Splash with the tequila and sprinkle on the chives.

Serve the tostadas whole or cut into pieces.
We're actively involved in Facebook, Faith Middleton Food Schmooze