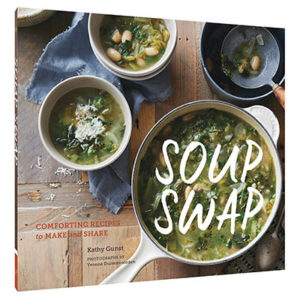 Fish stock, or what the French call fume, is quick and easy to make. Ask your local fish store to save you "frames," the bones that are left after filleting a fish. Look for mild-tasting white fish like flounder, cod, halibut, or haddock. Stronger fish like salmon, bluefish, or mackerel are too oily to make a clean-tasting fish stock. You can also add lobster shells to the stockpot.
This stock is the base of many fish soups and chowders (Like this New England Fish and Clam Chowder). If you don't want to make your own fish stock, ask the folks at your fish store if they make/ sell it. It will be much more flavorful than what you find in the supermarket.
Excerpted from Soup Swap by Kathy Gunst, Published by Chronicle Books LLC. Text ©2016 by Kathy Gunst. Photographs by Yvonne Duivenvoorden, ©2016 by Chronicle Books LLC.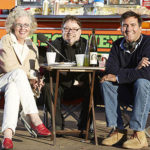 ON-DEMAND: Get more tips from Faith and Kathy about making a great stock. You can also support The Faith Middleton Food Schmooze® and all of WNPR's programming by swapping a pledge of $8 a month for this book. Make your pledge now. Thanks.

Servings:
cups [2 liters]
In a large stockpot, combine the fish bones and wine. Add enough cold water to just barely cover and bring to a boil over high heat. Skim off the white foam that forms on the surface and turn the heat to low. Add the onion, carrots, celery, bay leaf, peppercorns, parsley, and thyme and season with salt (go easy; you can always add more at the end). Partially cover and simmer gently (try not to let it boil or simmer too vigorously) for 20 to 45 minutes. Taste the stock (it should have a mild briny flavor) and adjust the seasoning, adding ground pepper and more salt if needed. (Remember that a lot of seafood, particularly crustaceans, are salty, so you want to avoid oversalting the stock.) Strain the stock and let cool.

Store in airtight containers in the refrigerator for up to 5 days or in the freezer for up to 4 months.