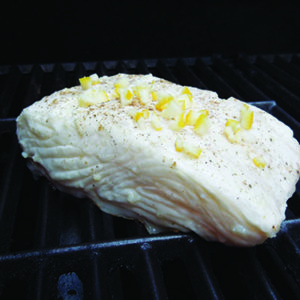 Halibut is a large, meaty fish that performs very well on the grill. Here's a Mediterranean version of sorts from the Greek-American–owned City Fish Market in Wethersfield, Connecticut.
Get the scoop on a few of our favorite seafood markets in Connecticut, Rhode Island, and more, and hear local author Mike Urban describe more seafood recipes from his book in this recent episode of The Faith Middleton Food Schmooze®.
Recipe excerpted from The New England Seafood Markets Cookbook by Mike Urban, published by Countryman Press, ©2016. Photo by Mike Urban.
Video: Watch Chris Prosperi's tip for how to make your grill a non-stick grill so your fish doesn't stick and comes out perfect every time.

Place the lemon juice and garlic clove in a baking dish, and allow the garlic to infuse the lemon juice (about 10 to 15 minutes). Add the halibut and turn to coat. Refrigerate for 30 minutes to 1 hour.

Preheat the grill to medium-high heat, making sure the cooking grates are clean. Brush the halibut with olive oil, then rub the fillet with the minced lemon peel. Season generously with pepper, then with salt to taste.

Grill the halibut until cooked through, turning once, about 8 minutes total. The fillet should begin to flake at the touch of a fork. Remove from the grill, divide into serving-size portions, transfer to serving plates, and serve with lemon wedges.