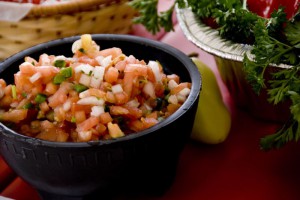 If you're looking for something a little different to serve with crackers, pita chips, grilled bread, or Indian Poppadoms look no further than Peggy Fallon's Rockin' Moroccan Salsa. The spices in this recipe give it an exotic flavor.

In a small bowl, combine the tomatoes, red onion, cilantro, olive oil, lemon zest, garlic, cumin, cinnamon, turmeric, paprika, cayenne and salt. Toss gently to mix.

Transfer to a serving bowl, cover, and let stand at room temperature for about 1 hour to allow the flavors to develop, or refrigerate for up to 8 hours. Serve at cool room temperature.