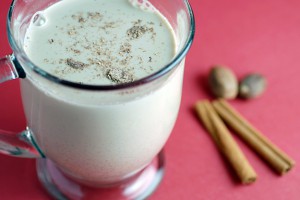 Last minute guests arrive on a Sunday afternoon near the holidays…what to do? Head to the freezer and take out a container of ice cream with lots of egg yolks in the recipe (Haagen-Dazs and Ben & Jerry's vanilla are examples.) Defrost it in the microwave, stir the melted ice cream into a bowl and mix in about four shots of dark rum or bourbon. It should be thick and cool. Garnish each cup with ground cinnamon and nutmeg. Instant party. — Faith & Alex Province

Allow ice cream to melt until soft in a bowl.

Fold rum into ice cream until well combined.

Serve in a glass garnished with nutmeg, cinnamon or both.