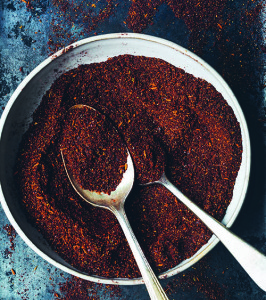 This recipe is reprinted with permission from The Chili Cookbook: A History of the One-Pot Classic, with Cook-Off Worthy Recipes from Three-Bean to Four-Alarm and Con Carne to Vegetarian by Robb Walsh, copyright © 2015. Published by Ten Speed Press, an imprint of Penguin Random House LLC.
Remove the stems and seeds from the anchos and spread the peppers out flat. Reserve the seeds. Place the chiles flat on a comal or cast-iron skillet over medium heat. Being careful not to burn them, lightly toast until they are brittle, then remove and cool. Toast the cumin in the hot comal, stirring and shaking until fragrant. Toast some of the chile seeds, if desired. (The seeds will make the chili powder hotter.)

Cut the chiles into small strips with scissors. In a clean coffee grinder, grind the strips in several batches until powdered. Grind the cumin and chile seeds in the coffee grinder. Combine the powdered chile, ground seeds, Mexican oregano, and garlic powder in a mixing bowl. Grind the coarse powder in batches in the coffee grinder until fine, about 2 minutes. Store in an airtight container until ready to use.