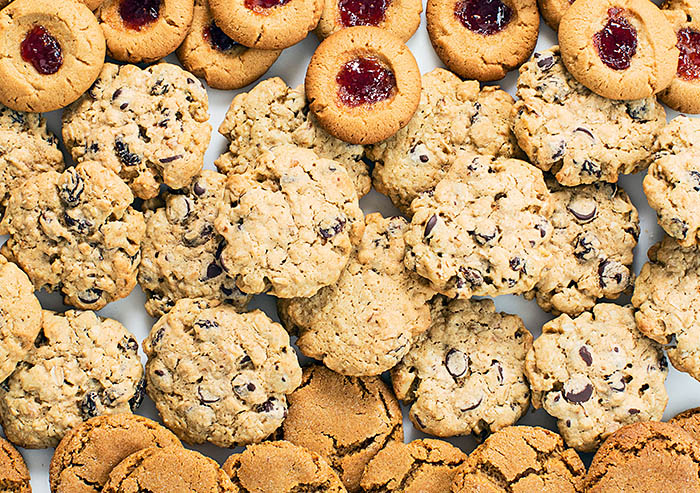 I brown the butter for these cookies to add flavor and remove the water (although you can skip this step; see Make This Recipe Your Own, in Recipe Notes). Adding golden syrup or corn syrup helps to keep them moist and chewy. Golden syrup adds a delicious butterscotch element. Unbleached all-purpose flour gives a slightly chewier texture than bleached flour.
I also like to add walnuts, and lightly toasting them brings out the flavor. Since walnut skins are bitter tasting, removing as much skin as easily possible also removes any bitterness. If you like the slight bitterness, it's okay to skip this step. I like my cookies crisp at the edges and moist and chewy on the inside, so I find it best to bake them just until the centers are still soft and then eat them while still warm from the oven.
MAKES TWENTY-TWO 2¾ INCH COOKIES
OVEN TEMPERATURE: 325°F/160°C for the walnuts; 350°F/175°C for the cookies
BAKING TIME: 7 minutes for the walnuts; 8 to 10 minutes for the cookies for each of two batches
BAKING EQUIPMENT: Two 15 by 12 inch cookie sheets, lined with parchment
MISE EN PLACE
• About 1 hour ahead, set the butter and egg on the counter at room temperature (65º to 75ºF/19º to 24ºC).
• CLARIFY AND BROWN THE BUTTER: Have ready by the cooktop a 1 cup glass measure with a spout.
• In a small heavy saucepan, on very low heat, melt the butter, stirring often with a silicone spatula. Raise the heat to low and boil, stirring constantly, until the milk solids on the spatula become a deep brown. Immediately pour the butter into the glass measure, scraping in the browned solids as well. Allow the browned butter to cool to room temperature, or no higher than 80ºF/27ºC.
• TOAST AND CHOP THE WALNUTS: Spread the walnuts evenly on a cookie sheet and bake for about 7 minutes. Stir once or twice to ensure even toasting and prevent overbrowning. Turn the walnuts onto a dish towel and roll and rub them around to loosen the skins. Discard any loose skins (use a skewer for any large stuck-on skins) and let the nuts cool completely. Chop into coarse pieces.
• In a medium bowl, whisk together the flour, baking soda, and salt.
• Into the bowl of a stand mixer, weigh or measure the egg.
—Rose Levy Beranbaum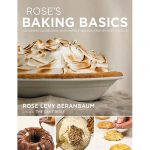 ROSE'S CHOCOLATE CHIP COOKIES is excerpted from Rose's Baking Basics © 2018 by Rose Levy Beranbaum. Photography © 2018 by Matthew Septimus. Reproduced by permission of Houghton Mifflin Harcourt. All rights reserved.

Preheat the oven to toast the nuts
(Be sure to read instructions in the headnote about Mise en Place, clarifying and browning the butter, and toasting the nuts). Twenty minutes or longer before toasting the walnuts, set an oven rack at the middle level. Set the oven at 325ºF/160ºC.
To the bowl of the stand mixer fitted with the flat beater (remember, you've already added your egg as part of your mise en place), add the browned butter with its solids, the brown and granulated sugars, golden syrup, and vanilla, and mix on low speed for 1 minute.

Add the flour mixture. Starting on the lowest speed, beat just until the flour is moistened. On low speed, continue beating for 30 seconds. Add the chocolate chips and walnuts and continue beating only until evenly incorporated.

Divide the dough in half (about 345 grams each). Wrap each piece in plastic wrap. If the dough is very sticky, refrigerate for about 30 minutes.
Roll the dough into balls
Divide one piece of the dough into 11 walnut-size pieces (31 grams each). Roll each piece in the palms of your hands to form a 1½ inch ball. Place the balls on a cookie sheet, a minimum of 2 inches apart.

Flatten the cookies to about 2 inches wide by ½ inch high. (If desired, freeze the shaped cookie dough to bake at a later time. Baking time will be about 2 minutes longer when baked from the frozen. For the ideal texture, preheat the oven to 325ºF/160ºC and then raise the temperature to 350ºF/175ºC once the cookies are in the oven.)
Rose's Baking Pearls
• Use your favorite chocolate. My favorites are: Valrhona dark chocolate chips 52% and 60%, Ghirardelli bittersweet chips 60%, and Scharffen Berger bittersweet chunks 61%.
• Use grade AA butter, as lower quality (containing more water) will result in a lesser amount of browned butter. You will need a total of 84 to 94 grams/103 ml browned butter.
Make This Recipe Your Own
• It's also fine to use the softened butter without browning it, but it will result in a less flavorful, puffier cookie.
• For a cookie that is crisp all the way through, bake at 325°F/160°C for 12 to 14 minutes, until set but still soft. The cookie will become firm and crisp when cool.
• Many variations work for this cookie base. You can use a mix of chocolate such as white, milk, and dark, or you can use butterscotch chips instead. You can use pecans or your favorite nuts instead of walnuts, or no nuts at all. Also, you can add ½ to ¾ cup dried fruit such as cranberries or raisins.