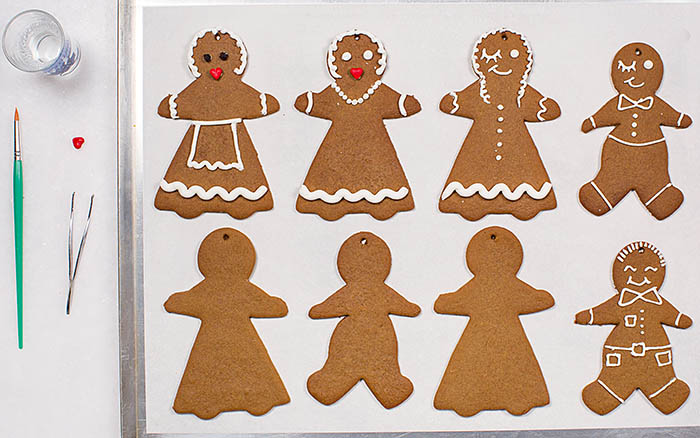 Gingerbread men and women cookies hanging from the tree or sitting on the mantel are a charming holiday tradition. Ginger is not only an appealing spicy flavor, it serves as a great preservative. Of course, the dough can be cut into any desired shape and decorated with royal icing and candies.
MAKES EIGHTEEN 5 BY 3 INCH COOKIES
OVEN TEMPERATURE: 350°F/175°C
BAKING TIME: 10 to 12 minutes for each of two batches
BAKING EQUIPMENT: Two 15 by 12 inch cookie sheets, preferably nonstick, or lightly coated with nonstick cooking spray; Gingerbread man and woman cookie cutters, 5 inches high by about 3 inches wide; A disposable pastry bag and small round piping tip; Optional: a wooden skewer.
MISE EN PLACE
• Thirty minutes ahead, cut the butter into ½ inch cubes. Wrap and refrigerate.
• Into a 1 cup measure with a spout, weigh or measure the egg and cover.
• Lightly coat another 1 cup measure with a spout with nonstick cooking spray, weigh or measure the molasses into it, and cover.
• Into a medium bowl, sift together the flour, baking soda, salt, ginger, cinnamon, nutmeg, and cloves. Whisk to mix evenly.
Get Rose's recipe for Royal Icing to decorate the Gingerbread Folks.
—Rose Levy Beranbaum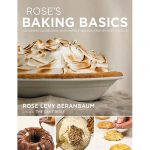 GINGERBREAD FOLKS is excerpted from Rose's Baking Basics © 2018 by Rose Levy Beranbaum. Photography © 2018 by Matthew Septimus. Reproduced by permission of Houghton Mifflin Harcourt. All rights reserved.

In a food processor, process the brown sugar until very fine.

Add the butter and pulse until the mixture begins to clean the sides of the bowl.

Add the molasses and egg and process until smoothly incorporated. Scrape the sides of the bowl as needed.

Add the flour mixture and pulse just until the dough begins to clump together.
Scrape the dough onto a sheet of plastic wrap and use the wrap to press the dough together to form a ½ inch thick disc. Wrap it with plastic wrap and refrigerate for a minimum of 2 hours, up to overnight.
Twenty minutes or longer before baking, set an oven rack at the middle level. Set the oven at 350ºF/175ºC.
Rose's Baking Pearls
• If the dough should soften after cutting, cover and refrigerate before lifting the cut dough off the surface to maintain the cookies' shape.
Make This Recipe Your Own
• If you enjoy thicker, softer cookies, roll the dough ¼ inch thick and bake just until they are set but still slightly soft when gently pressed with a fingertip, about 8 minutes.