A cookie crust is firmer but more tender than a flaky pie crust. It maintains its crisp and tender texture even when chilled, which makes it more suitable for tarts that require refrigeration.
MAKES ONE 9½ INCH TART SHELL OR ONE 9 INCH SINGLE PIE CRUST
OVEN TEMPERATURE: 425°F/220°C, then 375°F/190°C
BAKING TIME: 25 to 35 minutes
BAKING EQUIPMENT:
For a tart: One 9½ by 1 inch high fluted tart pan with removable bottom, coated with baking spray with flour if not nonstick; An expandable flan ring or 12 inch round cardboard template; An 8 by 2 inch round cake pan; A cookie sheet lined with nonstick aluminum foil or with regular aluminum foil lightly coated with nonstick spray
For a pie: One standard 9 inch pie plate; Optional: a second 9 inch pie plate, to aid in shaping
For both: A large coffee filter, several smaller cup-style coffee filters, or crumpled parchment; Dried beans or rice as weights for blind baking; A foil ring to protect the edges of the crust
Mise en Place for this recipe:
• Cut the butter into ½ inch cubes and refrigerate.
• Into a 1 cup measure with a spout, weigh or measure the egg yolk and cream. Cover and refrigerate.
—Rose Levy Beranbaum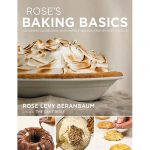 SWEET COOKIE TART OR PIE CRUST (PÂTE SUCRÉE) is excerpted from Rose's Baking Basics © 2018 by Rose Levy Beranbaum. Photography © 2018 by Matthew Septimus. Reproduced by permission of Houghton Mifflin Harcourt. All rights reserved.

Servings:
nine-and-one-half-inch tart shell or 1 nine-inch single pie shell
MAKE THE DOUGH - FOOD PROCESSOR METHOD: In a medium bowl, whisk together the flour and salt.

In a food processor, pulse together the sugar and lemon zest, if using, until the zest is very finely grated.

Add the cold butter cubes and pulse until the sugar coats the butter.

Add the flour mixture and pulse until the butter is no larger than small peas.

Add the egg yolk and cream and pulse just until incorporated. The dough will be in crumbly pieces unless pinched.

Scrape the dough into a plastic bag and press it from the outside of the bag just until it holds together. Remove the dough from the plastic bag and place it on a very large sheet of plastic wrap. Use the plastic wrap to knead the dough a few times until it becomes one smooth piece. There should be no visible pieces of butter. (Visible pieces of butter in the dough will melt and form holes during baking.) If there are visible pieces of butter, use the heel of your hand in a forward motion to smear them into the dough.

MAKE THE DOUGH - HAND METHOD: Very finely chop the lemon zest, if using. In a medium bowl, stir together the lemon zest, flour, sugar, and salt.

With a pastry cutter or two knives, cut in the cold butter until the mixture resembles coarse meal.

Mix the egg yolk and cream into the flour mixture until the dough comes together and can be formed into a large ball.

BOTH METHODS - CHILL THE DOUGH: Flatten the dough into a 6 inch disc. Wrap it with plastic wrap and refrigerate for 30 minutes, or until firm enough to roll or press into the pan. It can be refrigerated for up to 3 days or frozen for up to 6 months. If chilled for more than 30 minutes, depending on the room temperature it can take as long as 40 minutes to become malleable for rolling.
Rose's Baking Pearl:
• Unbleached all-purpose flour will result in as tender a crust, but due to its higher protein content, you will need to use slightly more cream: Use a total of 38 grams/2 tablespoons plus 2 teaspoons (40 ml) cream. The higher protein content in the flour will cause the crust to brown more quickly, so watch carefully when baking.